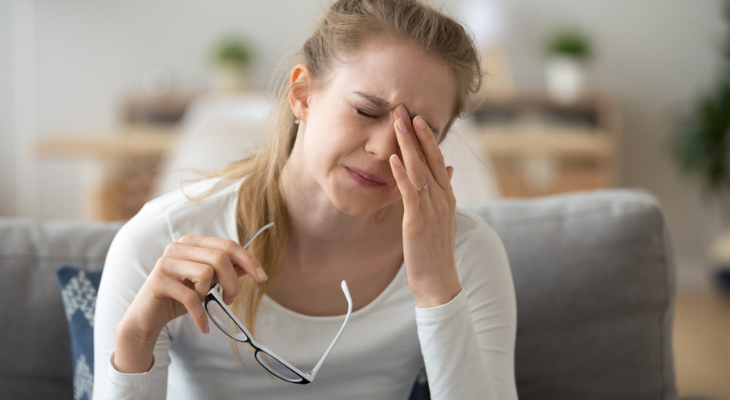 Could Astigmatism Be to Blame for Your Blurry Vision?
Everything looks a little blurry when you have astigmatism. The refractive error blurs both far and near vision, making it difficult to read a book or see a road sign in the distance. Fortunately, squinting isn't the only option if you have astigmatism. Your optometrist can make a simple change to your eyeglass or contact lens prescription that will improve the sharpness of your vision.
All About Astigmatism
Do you know these astigmatism facts?
The Shape of Your Cornea Plays a Role in Astigmatism. Your cornea, the clear, rounded tissue that covers your iris and pupil, refracts (bends) light rays as they enter your eye. Refraction focuses the rays on the retina, the layer of light-sensing cells that lines the back of the eye. Astigmatism occurs when your corneas aren't perfectly round and are shaped more like footballs. The elongated oval shape changes the way light rays focus on the retina and is the reason your vision is blurry. Astigmatism can also occur if the clear lens inside your eye has an irregular shape.
Astigmatism is a Common Refractive Error. Thirty-three percent of people in the U.S. have astigmatism, according to the American Academy of Ophthalmology. Astigmatism affects people of all ages and races. Babies may even have astigmatism, although most soon outgrow it. Astigmatism can occur on its own, but you're more likely to be diagnosed with the refractive error if you are also myopic (nearsighted) or hyperopic (farsighted).
Blurry Vision Isn't the Only Symptom of Astigmatism. In addition to blurred vision, you may experience eyestrain and headaches and may need to squint to see clearly. You may be more sensitive to glare and notice that lights have haloes around them at night if you have astigmatism.
Astigmatism May Run in Your Family. An irregularly shaped cornea may be one of the features you inherited from your parents. If other people in your family have astigmatism, you may be more likely to develop it.
Sitting Too Close to the TV Doesn't Cause Astigmatism. Astigmatism isn't caused by reading in low light or sitting close to the television. In most cases, there is nothing you can do to prevent astigmatism. Although you can develop astigmatism after an eye injury or eye surgery, it's not always possible to determine why you have the refractive error.
Rubbing Your Eyes Could Be a Factor. Rubbing your eyes is one habit that could cause astigmatism. In fact, frequent rubbing could eventually change the shape of your corneas. Rubbing also increases your risk of keratoconus, a condition that makes the corneas thin and cone-shaped. Unfortunately, it's difficult to resist the urge to rub your eyes if you have dry eyes or allergies. Your eye doctor can recommend eye drops and strategies that will help you break the habit.
Astigmatism Could Affect Your Depth Perception. When your vision is blurry at any distance, you may notice problems with your depth perception. It may also be difficult to judge distances correctly, keep your balance, or read comfortably due to depth perception issues.
How Your Eye Doctor Treats Astigmatism
Blurry vision due to astigmatism can be easily corrected with a contact lens or eyeglass prescription in most cases. A treatment called orthokeratology can also be helpful. Orthokeratology involves reshaping your corneas by wearing special contact lenses while you sleep.
LASIK surgery may be a good option if you don't want to wear contacts or glasses. The procedure corrects astigmatism and can also improve your vision if you're nearsighted or farsighted. During LASIK surgery, your eye doctor makes a flap in your cornea with a laser, then uses a different laser to reshape your cornea.
If you're not a candidate for laser surgery, your eye doctor may recommend photorefractive keratotomy (PRK). PRK involves removing the top layer of the cornea and reshaping the tissue underneath with a laser. The outer layer of the cornea grows back as your eye heals.
Is astigmatism blurring your vision? We can help you see clearly again. Give us a call to schedule your appointment.
Sources:
American Academy of Ophthalmology: Eye Health Statistics
American Optometric Association: Astigmatism
All About Vision: Astigmatism: Causes, Definition, Types and Treatment