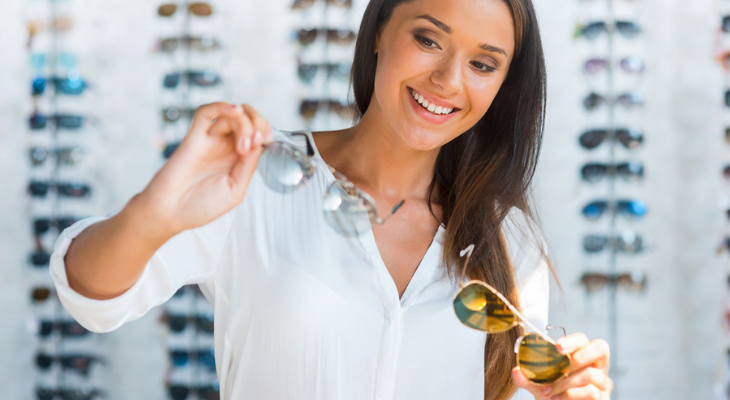 Tips On Picking the Right Sunglasses for Eye Health During UV Safety Month
Sunglasses are more than just a fashion accessory. The glasses decrease your exposure to harmful ultraviolet (UV) rays produced by the sun and may help you lower your risk of developing several serious eye diseases. If you'll be shopping for sunglasses soon, these tips will help you select a pair that offers maximum protection for your eyes.
Take a Minute to Read the Label
You may be more likely to develop cataracts, age-related macular degeneration, growths on your eye, or eye cancer if you don't protect your eyes from both ultraviolet A (UVA) and ultraviolet B (UVB) rays.
Manufacturers usually include information about UV protection on a label or sticker attached to the sunglasses. For complete protection, look for labels that mention that the glasses provide 100 percent protection from UVA or UVB rays or note that the lenses offer 100 percent protection against UV400. If you don't see this information on the label, the sunglasses may not adequately protect your eyes from the sun.
More expensive isn't necessarily better when it comes to UV protection. Inexpensive lenses can block UV light just as effectively as more costly options.
Consider Lens Color Options
Any sunglass lens color can block UV light. Of course, some lens colors may be better choices than others, depending on how you'll use the glasses. Gray and green lenses are good everyday choices that decrease glare and improve contrast without making colors look dull. Red lenses can improve depth perception, while yellow lenses may make it easier to focus in hazy conditions, according to All About Vision.
Wearing sunglasses year-round offers the best protection from the harmful effects of UV rays. Ultraviolet light can damage your eyes just as easily in the winter as in the summer.
Your risk of developing an eye disease due to UV exposure increases if you have blue, green, or hazel eyes. More than 54 percent of Americans have these light-colored eyes, according to the American Academy of Ophthalmology.
Evaluate Fit
Fit is an important consideration when buying sunglasses. If the sidearms or too tight or the nose pads pinch your nose, you probably won't wear the glasses as often as you should.
For maximum sun protection, choose wraparound sunglasses. These glasses prevent UV rays from leaking in around the top, bottom, and sides of the frames.
Wear Hats
Combining sunglasses with a hat offers even more protection for your eyes. Whether you prefer a baseball cap or a large sun hat, look for hats with large brims that extend over your face.
Talk to Your Optometrist About Prescription or Non-Prescription Sunglasses
Wearing sunglasses can be a hassle if you normally wear prescription eyeglasses. Everything looks blurry if you put on a pair of drugstore sunglasses, but clip-on sunglass lenses aren't necessarily a better choice. It's not always easy to find clip-ons that fit your lenses perfectly, and clip-ons may not be the most attractive option.
Fortunately, prescription sunglasses offered by your optometrist provide a better option. Sunglass lenses can be added to many fashionable frame styles. Transition lenses offer another option if you wear eyeglasses. The prescription lenses darken when you go outside, then turn lighter after you return indoors.
If you play sports or swim, prescription goggles with UV protection protect your eyes from the sun and provide clear vision.
Would you like a pair of high-quality sunglasses to wear with your contact lenses? Your eye doctor also offers non-prescription sunglasses that reduce glare and increase your comfort.
Do you need a new pair of glasses sunglasses? UV Safety Awareness Month in July is the perfect time to select a new pair. Contact our office to make an appointment for a comprehensive vision examination if you need a new prescription. You can also pay a visit to the office to pick out your new sunglasses if you already have a prescription.
Sources:
American Academy of Ophthalmology: Sun Smart UV Safety Infographic, 4/30/14
All About Vision: Types of Sunglasses: A User's Guide
American Optometric Association: Ultraviolet (UV) Protection
American Academy of Ophthalmology: How to Choose the Best Sunglasses: Six Things to Consider, 4/30/15