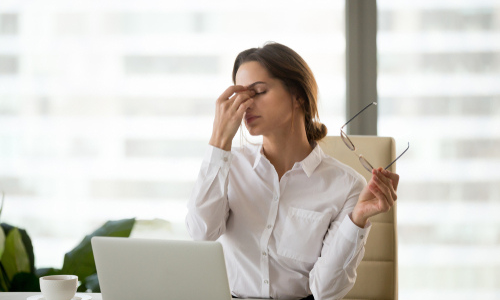 Relax Your Eyes with These Soothing Exercises
Do your eyes hurt when you spend too much time reading, playing digital games, or working on your computer? Headaches, blurry vision, and neck pain can be signs of eyestrain, as can light sensitivity, trouble concentrating, burning, sore, or itchy eyes. Fortunately, preventing uncomfortable eyestrain symptoms can be as simple as trying a few of these exercises.
The Clock Exercise
The clock exercise relieves strain on overworked eye muscles and can help you avoid headaches, eye pain, and other eyestrain symptoms. Start the exercising by imagining a large analog clock a few feet in front of you. Keep your head still and move your eyes to nine, then to three.
Keep moving your eyes to the opposite pairs on the clock - ten and four, twelve and six, etc. Hold your gaze for a second or two on each number before moving on to the next one.
Figure Eight Tracing
Picture an eight on its side. Use your eyes to trace the figure without moving your head and neck. After performing five cycles in the same direction, reverse direction, and try the exercise five more times. This exercise will also keep your eye muscles loose and flexible.
Focus Changes
Hold a pen about a foot away from your nose. Focus on the pen for a few seconds, then switch your focus to an object in the distance for a few seconds. Perform the exercise five or ten times.
If your vision tends to become blurry when you look at close objects, add a few extra steps to this exercise. Extend the arm holding the pen as far as you can, then slowly move the pen toward your face. Stop when you can no longer see the pen clearly or you see more than one pen. Return to the starting position and start again. If you perform this exercise regularly, you may discover that your ability to focus on near objects improves.
Palming
Close your eyes and place your palms against your eyes. Apply gentle pressure for 30 seconds to 1 minute. Palming helps tight eye muscles relax and may also improve eye lubrication.
Exercises Offer an Effective Way to Relax Your Eyes
Eye exercises improved eye fatigue in a group of nursing students in a study published in the Journal of Physical Therapy Science. The 40 students were divided into two groups. The first group performed yogic eye exercises two days a week for eight weeks while the second group did not. The exercises included palming, blinking, sideways viewing, rotational viewing, and near and distant viewing.
At the end of the eight weeks, the exercise group noticed a significant decrease in eye fatigue compared to the control group.
Other Things You Can Do to Improve Eye Comfort
Do you follow the 20-20-20 rule when you view digital screens? The rule helps you avoid dry eye and eyestrain by giving your eyes frequent breaks. After working or playing for 20 minutes, focus on an object 20 feet in the distance for 20 seconds.
Viewing screens for hours tends to dry out the eyes. The problem is related to a decrease in blinking when looking at digital screens. If your eyes tend to feel dry when you're texting or watching videos online, remind yourself to blink more often. If your eyes continue to bother you, use over-the-counter lubricating drops to improve your comfort.
The American Optometric Association recommends placing computer monitors 20 to 28 inches from your eyes and 4 to 5 inches below eye level for optimum eye comfort. Glare filters can reduce the amount of glare produced by digital devices and improve your viewing experience.
If dry eyes, headaches, and other eyestrain symptoms continue, you may benefit from wearing computer glasses. The prescription glasses reduce glare, block blue light, and provide the optimum focusing power for viewing your screen.
Are your eyes painful, dry, or uncomfortable? Has your vision become a little blurry lately? It may be time to pay a visit to the optometrist. Call our office to schedule a convenient appointment.
Sources:
Healthline: Eye Exercises: How-to, Efficacy, Eye Health, and More
Journal of Physical Therapy Science: Effects of Yogic Eye Exercise on Eye Fatigue in Undergraduate Nursing Students, 6/16
American Academy of Ophthalmology: Eye Strain: How to Prevent Tired Eyes, 2/26/20
Yoga Journal: The Benefits of Yoga for the Eyes
American Optometric Association: Most Americans Experience Digital Eyestrain from Overexposure to Computers According to Survey, 10/23/16