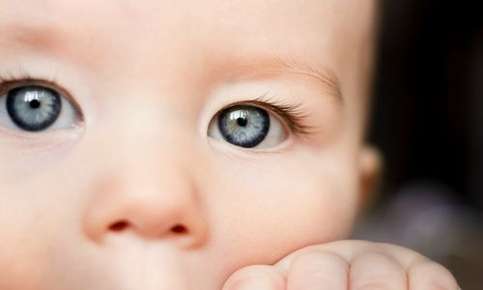 How Your Child's Eyes Develop
Vision changes drastically in the first months of your child's life. Although the world looks a little hazy to a newborn, a baby's eyesight begins to sharpen in just a few weeks. As your child grows, improvements in visual ability continue to occur.
The First Two Months
Although your newborn can focus on your face when you hold him or her close to you, people and objects more than a foot away will look blurry. Color vision isn't fully developed at birth but will improve in just a few weeks. Black and white objects or deeply contrasting color combinations are particularly appealing to babies for this reason.
As the weeks go by, focusing ability rapidly improves. Eye teaming, the ability to coordinate the movements of both eyes when looking at an object, will become stronger during the first two months. Until it does, your baby's eyes may occasionally drift off in different directions. This is perfectly normal and isn't a cause for concern unless it occurs longer than four months.
Months Three to Four
Your baby's world has rapidly expanded, thanks to the newfound ability to see objects in the distance clearly. Does your child's face light up when you walk into the room? Your baby can now recognize favorite people, pets, and toys.
During this stage, your baby will be able to track moving objects with his or her eyes, grab at a dangling toy or latch on to a strand of your hair with a surprisingly strong grip.
Months Five to Eight
As visual pathways between the brain and eyes become more developed, your child's vision will sharpen while focusing and tracking become second nature.
Although babies are born with 20/400 vision, vision improves to about 20/25 at about six months of age, according to All About Vision. Hand/eye coordination, color vision, depth perception and the ability to see in three dimensions develop and improve during this phase.
The American Academy of Ophthalmology recommends that babies receive their first eye examination between 6 to 12 months of age. This examination is particularly important, as it can identify issues that could have a long-term impact on your child's vision if untreated.
Months Nine to 12
Your baby's depth perception and ability to judge distance continue to improve, during months nine through 12. These skills are important when performing tasks that require good hand/eye coordination, such as throwing a ball. As your baby explores his or her environment by crawling and walking, hand-eye coordination will become even more refined.
The Toddler Through Preschool Years
Playing with toys, climbing a play structure, building towers with blocks, coloring, looking at books, and other activities strengthen your child's visual abilities and improve motor skills and hand-eye coordination.
Matching games and simple puzzles not only help enhance your child's fine motor skills but also strengthen visual memory. Visual memory helps your child remember things he or she has seen and is an essential aspect of reading and writing.
Early Childhood Through the Teen Years
Refractive errors often develop during childhood or teen years, although they can also occur in younger children. The errors make it hard to see close or near objects clearly or read the numbers or letters on an eye chart. Difficulty seeing the board at school or trouble reading may be among the first signs that your child is nearsighted or farsighted and needs eyeglasses. Yearly eye examinations are important during this stage, as children aren't always aware that they have a vision problem.
Regular eye examinations help protect your child's eyesight. Is your child due for a visit to the eye doctor? Contact us to schedule a convenient appointment.
Sources:
American Optometric Association: Infant Vision: Birth to 24 Months of Age
American Academy of Ophthalmology: Refractive Errors in Children, 7/25/14
All About Vision: Your Infant's Vision Development: What to Know
American Academy of Ophthalmology: Eye Screening for Children, 8/4/14