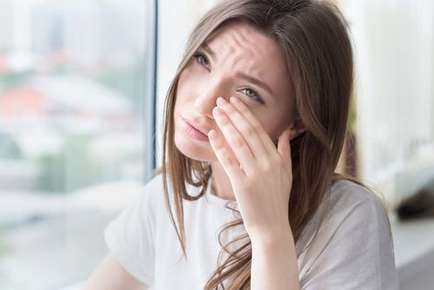 Red, Itchy Eyes? You Might Have Eye Allergies
Sneezing, congestion, post-nasal drip, and hives aren't the only symptoms of allergies. Your allergies can also affect your eyes, causing a range of uncomfortable symptoms.
Eye Allergy Symptoms
Eye allergy symptoms can vary from person to person but often include:
A Change in Appearance. Have you noticed that your eyes are red and irritated or that your eyelids look a little puffy or swollen? Eye allergies often cause very noticeable symptoms and may even be responsible for the dark circles under your eyes. Commonly called "allergic shiners," the circles form when blood backs up in the small blood vessels under your eyes due to nasal congestion.
Sensitivity. Your eyes may become more sensitive to both sunlight and natural light if you have eye allergies. In fact, you may even be tempted to wear sunglasses indoors.
Discomfort. Burning, itching, pain, and tearing can be quite uncomfortable and make reading, driving or watching TV a little challenging.
The trouble starts when your immune system overreacts to the presence of allergens, harmless substances that your body mistakenly decides are dangerous to your health. Once an allergen enters your body, your immune system produces histamines, natural chemicals that help eliminate allergens. As the histamines flood your body, they trigger sneezing, tearing, and other symptoms to rid your body of the allergens.
Common Eye Allergy Triggers
The same allergens that cause nasal allergies can also cause eye allergies. Your symptoms may happen due to exposure to:
Pollen
Pet Dander
Mold
Dust
Perfume
Cosmetics
Smoke
Foods
Insect Bites or Stings
Eye allergies can occur in conjunction with nasal allergies or may happen without any nasal symptoms. You may also develop allergy symptoms if you become allergic to eye drops or other eye preparations, or your eyes become irritated by your contact lenses or deposits that form on the lenses. Wearing contact lenses can also worsen your allergy symptoms, as the lenses may trap allergens.
Ways to Reduce Eye Allergy Symptoms
Minimizing your exposure to allergens offers a simple way to decrease allergy symptoms, no matter what the cause. Check the local allergy forecast every day if you suffer from eye allergies. If you notice high levels of the allergens that trigger your symptoms, minimize the amount of time you spend outdoors. When you do venture outside, wear glasses rather than contact lenses. Glasses provide a barrier that helps prevent allergens from reaching your eyes.
Other ways to minimize exposure to allergens include:
Keeping the Windows Closed. Prevent airborne allergens from settling on to your furniture and floors by shutting the windows and using your air-conditioner instead.
More Frequent Cleaning. Vacuuming and mopping often reduce the number of allergens that enter your home on your clothing or your pet's fur. In addition to cleaning more often, encase your mattress and pillows in special protectors to reduce your exposure to dust mites and wash your bedding often.
Replacing Carpeting. Vacuuming will help reduce allergens but it won't remove them entirely. If you suffer from severe allergies, you may want to consider removing rugs and carpeting and replacing it with hardwood or tile floors instead.
Limiting Nighttime Visits from Pets. There's nothing cozier than snuggling up to your cat or dog at night - until you begin to experience eye allergies. Keeping your pet out of your bedroom may help ease your symptoms if you're allergic to pet dander.
Using Over-the-Counter Eye Drops or Artificial Tears. Eye drops and artificial tears offer short-term relief by washing away allergens from your eyes.
Visiting Your Eye Doctor. If making a few changes to your home and using eye drops don't improve your eye allergies, make an appointment with your eye doctor. Depending on the cause of your eye allergies, your doctor can recommend a variety of treatment options, including oral antihistamines or antihistamine drops, allergy shots, a change in the type of contact lenses you wear, or prescription eye drops to prevent the release of histamine or reduce redness, itching or swelling.
Relieve your eye allergy symptoms with a visit to the eye doctor. Contact us to schedule your appointment.
Sources:
American Academy of Ophthalmology: What Are Eye Allergies?, 9/10/19
American College of Allergy, Asthma & Immunology Eye Allergy
All About Vision: Eye Allergies: Get Relief from Itchy, Watery Eyes