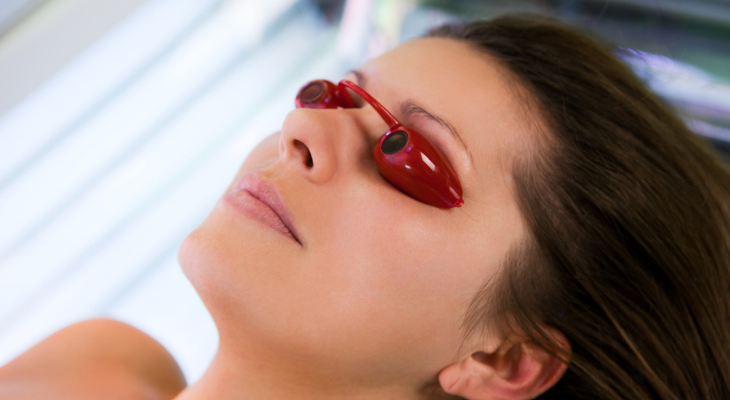 Indoor Tanning May Increase Your Risk of Certain Eye Conditions
A higher risk of skin cancer isn't the only disadvantage of indoor tanning. Spending time in a tanning bed can also harm your eyes.
How Indoor Tanning Affects Your Eyes
The ultraviolet (UV) rays produced by tanning beds are just as harmful as those produced by the sun. Although UV light does play a positive role in physical and mental health, frequent or prolonged exposure damages the tissues in the body, including those in the eyes. In many cases, the damage isn't apparent for decades.
Indoor tanning can increase your risk of developing these eye conditions and diseases:
Cataracts: Cataracts form when the normally clear lens inside your eye becomes cloudy. Symptoms include blurry vision, glare, halos around lights, poor night vision, and faded colors. According to a study funded in part by the National Eye Institute, UV light damages lens proteins, triggering the changes that cause cataracts.
Photokeratitis: Photokeratitis is a type of sunburn caused by natural and artificial UV light sources, including those found in tanning beds and lamps. Photokeratitis affects the sensitive tissues of the conjunctiva, the white part of the eye, and the cornea, the clear, rounded tissue that covers the iris and pupil. In addition to redness, symptoms of photokeratitis can include pain, blurred vision, tearing, sensitivity to lights, headaches, and halos around light.
Cancer: UV light exposure may also increase your risk of cancer in your eye and in the skin around your eye. Depending on where the cancer is located, temporary or permanent vision loss could occur.
Macular Degeneration: Macular degeneration causes blurry or blind spots in your central vision. Years of sun exposure can lead to the death of cells in the center of your retina, the layer of light-sensing cells at the back of your eye. Macular degeneration is the top cause of vision loss in the U.S., according to the American Macular Degeneration Foundation. In addition to central vision changes, macular degeneration symptoms can include trouble recognizing faces, difficulty seeing in low light, and faded colors.
Pterygium: Growths called pterygium may form on your eyes if you frequently use indoor tanning beds or lamps. The growths often develop on the inner or outer edges of the conjunctiva, the whites of your eyes, but can spread across the eye without treatment. Symptoms of pterygium include redness, pain, itching, and burning.
How to Protect Your Eyes
Tanning lotions or spray tans are a safer option for your eyes and your skin. If you decide to try a spray tan, be sure to wear goggles to prevent the spray from irritating your eyes.
If you're not quite ready to give up indoor tanning, reduce your risk of eye damage by wearing goggles every second you're exposed to the UV light. A good fit is essential. The goggles should fit tightly against the skin to prevent light from leaking into your eyes. If you're concerned about lines from the straps, adhesive eye protection may be an option. Look for goggles or protection that block 99 percent of UV light rays from entering your eyes.
Regular visits to the optometrist can help you improve and protect your vision. Contact us to schedule your appointment if it's time for an eye exam or you're concerned about pain, a change in vision, or other symptoms.
Sources:
National Eye Institute: New Research Sheds Light on How UV Rays May Contribute to Cataract, 6/3/14
American Macular Degeneration Foundation: What is Macular Degeneration