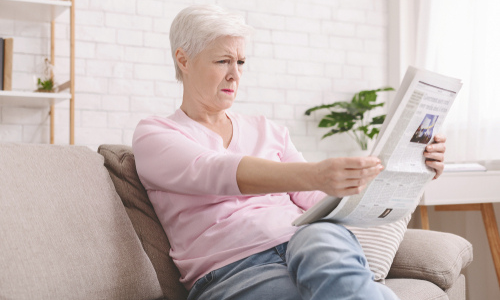 What is Low Vision?
Low vision affects close to 3 million Americans, according to the American Academy of Ophthalmology. You may have low vision if you have vision loss that can't be improved with glasses, contact lenses, or surgery. Fortunately, a variety of aids and devices can help you make the most of your usable vision.
What Causes Low Vision?
Low vision can be caused by:
Eye Diseases: Macular degeneration, glaucoma, cataracts, and diabetic retinopathy can cause loss of vision if treatments aren't successful.
Genetics: You may have inherited an eye disease that affects your vision, such as retinitis pigmentosa, Leber congenital amaurosis, or optic atrophy.
Injuries: Injuries to your eyes or brain may also be responsible for low vision.
Retinal Detachment: If your retina separates from the back of your eye and can't be reattached, you may experience permanent vision loss. The retina is a layer of light-sensing cells at the back of the eye that sends light rays to the brain for processing. You may notice a blank spot in your field of vision at the spot where the detachment occurred.
Prematurity: If you were born too early, you may suffer from retinopathy of prematurity, a condition that causes abnormal blood vessels to grow in your retinas.
How Do I Know If I Have Low Vision?
Your optometrist will determine if you have low vision after performing a few tests. Although your ability to see the letters and numbers on an eye chart will be part of the exam, he or she will also consider the way your vision problem affects your life.
Low vision may make it difficult to do many things you used to take for granted. Due to your vision problems, you may have trouble reading, using a computer, watching TV, using machinery, driving, shopping, seeing the board at school, and recognizing friends and family members.
The cause of your vision problem determines the type of symptoms you'll experience. Vision loss may affect your central or side vision, or alter your depth perception or ability to spot differences in colors. You can have low vision or in one or both eyes.
What Type of Help Is Available?
Low vision doesn't have to completely change your life. Thanks to innovative vision technology, you can learn new ways to carry out your daily tasks. Your optometrist may recommend one or more of these technologies, devices, or aids:
Magnifiers. Whether they're attached to a pair of glasses or held in your hand, magnifiers can make reading, sewing, and other tasks easier.
Screen Readers. Special software converts the words on the computer screen to spoken language, allowing you to "read" a computer screen even if you have severe low vision.
Telescopes. Telescopes can also be handheld or mounted on eyeglass frames. They're helpful for seeing objects in the distance or watching a TV or movie screen. Some telescopes can even help you drive.
Book Alternatives. If you have trouble reading the words in a book, selecting books and magazines that offer large print versions may offer a simple solution. Audiobooks are another option, as are electronic books. When you read an electronic book in an eReader, you can select the font size, background, and text color.
Apps. There's an app for almost everything these days, including low vision issues. You can find apps that describe the icons on your Apple phone or match you with volunteers who help you read the directions on a package by using the camera on your phone.
Everyday Items: Alarm clocks, telephones, watches, needle threaders, calculators, thermometers, timers, TV remotes, and other products are available in large print versions.
Do you need help dealing with low vision problems? Contact our office to schedule a convenient appointment.
Sources:
American Academy of Ophthalmology: Eye Health Statistics
American Academy of Ophthalmology: Low Vision Assistive Devices, 2/25/19
National Eye Institute: Low Vision