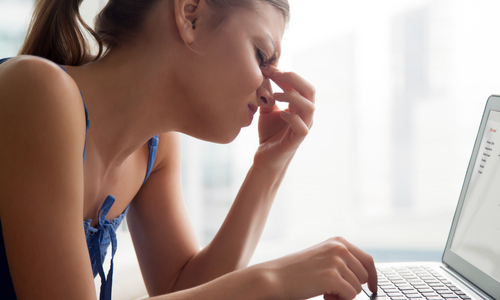 What You Need to Know About Astigmatism
Astigmatism causes blurred vision whether you're looking at an object that's close by or far away. Approximately 33 percent of the population is affected by astigmatism, according to the American Academy of Opthalmology.
What Causes Astigmatism?
Astigmatism is a refractive error that changes the way light rays focus on your retina. The light-sensing layer of cells at the back of the eye sends light impulses to the brain, which processes them into recognizable images.
Two eye structures help keep light rays properly focused on the retina. The cornea, a rounded layer of clear cells that covers the iris and pupil, bends (refracts) light on to the lens inside your eye. The lens, a clear, disc-shaped structure, focuses light on the retina and constantly changes shape as you use your near and far vision.
An irregularly shaped cornea or lens will distort light rays and prevent them from focusing on the retina correctly. If you have astigmatism, your cornea may be more oval-shaped than round, or your lens might be irregularly shaped.
Anyone can develop astigmatism, but it's more likely to occur if you injured your eye, had eye surgery, or have keratoconus, a condition that causes the cornea to become cone-shaped and thin. In some cases, a change in the shape of your lens can occur before you develop cataracts, according to the American Optometric Association.
Astigmatism is particularly common in babies but usually goes away on its own during the first year. You may be more likely to develop astigmatism if other people in your family also have this refractive error.
Can You Have Astigmatism If You're Nearsighted or Farsighted?
Many people who are nearsighted (myopic) or farsighted (hyperopic) also have astigmatism. Fortunately, prescription eyeglasses or contact lenses can help you avoid blurry vision.
What Are the Treatment Options for Astigmatism?
Astigmatism treatment involves altering the way light rays focus on your retina. One or more of these options may help you see clearly if you have astigmatism:
Eyeglasses or Contact Lenses. Both glasses and contact lenses offer a good way to counteract the effects of astigmatism. If you look at your prescription, you'll see that your optometrist has made a notation in the CYL (cylinder) column of the prescription. The number indicates the lens power needed for the part of the lenses that corrects astigmatism.
Orthokeratology. Orthokeratology, or ortho-k, offers a temporary solution for astigmatism. During the night, you'll wear special contact lenses that improve the shape of your cornea. Thanks to the rigid lenses, you may not need to wear glasses or regular contact lenses during the day. The effects of ortho-k usually only last a day or two. For the best results, you'll need to wear the contact lenses every night.
Laser Surgery. Laser surgery offers a more permanent treatment method for irregularly shaped corneas. During this treatment, a laser removes a small amount of tissue from the cornea to reshape it. The surgery can also be used to improve your vision if you're nearsighted or farsighted.
Are you struggling with blurry vision? You might have astigmatism. The refractive error can be diagnosed during a comprehensive eye examination. Contact our office to schedule your exam.
Sources:
American Academy of Ophthalmology: Eye Health Statistics
American Optometric Association: Astigmatism
American Academy of Ophthalmology: What Is Astigmatism?, 8/31/18