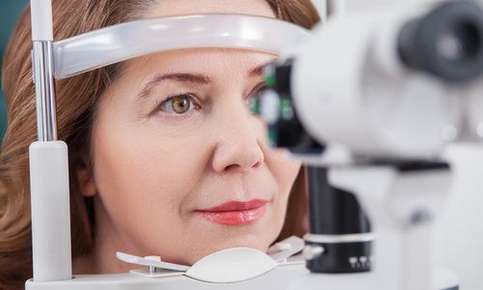 Improve Your Eye Health by Practicing These 5 Healthy Habits
Are you doing everything you can to protect your eyes? These five tips can help you improve your eye health.
1) Adopt a Hands-Off Policy
When your eyes are tired or itchy, rubbing them is a natural reaction. Unfortunately, rubbing your eyes can irritate them, injure your corneas (the clear tissue that covers your iris and pupils) or even cause a serious corneal condition called keratoconus.
Keratoconus occurs when the cornea becomes cone-shaped and can be caused by excessive rubbing. Symptoms included blurred or distorted vision, sensitivity to light, and difficulty seeing in low light.
Do you find it difficult to keep your hands away from your face? Most of us touch our eyes and faces many times throughout the day without even realizing it. During one study of face touching at The University of New South Wales, researchers discovered that participants touched their faces an average of 23 times in an hour. Fifty-six percent of those touches involved mucous membranes like the eyes.
Touching your eyes transfers bacteria from your hands to your eyes and provides a convenient way for germs to enter your body. As a result, you may become sick or develop an eye infection. Fortunately, it's easy to avoid these health issues by washing your hands frequently and avoiding touch your face and eyes.
2) Step Away from Your Screens
Digital technology makes our lives easier and much more interesting, but it's not without a few drawbacks. In addition to concerns about social isolation, spending too much time looking at laptops, desktops, tablets, e-readers, or cellphone screens can cause computer vision syndrome.
If you have this syndrome, you may experience dry eye, blurred vision, eyestrain, headaches, and neck and shoulder pain. Taking regular breaks from the screen and using the 20-20-20 rule recommended by the American Optometric Association can help. After looking at a screen for 20 minutes, look at an object 20 feet away for at least 20 seconds.
3) Improve Your Contact Lens Habits
If you've ever worn your lenses longer than recommended or reused solution, you may have paid the price. In fact, eye irritations and infections are common in people who don't follow good contact lens hygiene. Severe infections can even lead to temporary or permanent loss of vision.
Making these simple changes can help you protect your eyesight and improve the comfort of your lenses:
Don't wear your lenses longer than your optometrist recommends.
Use rewetting drops specially designed for contact lenses.
Wash your hands with soap and water before handling your lenses.
Don't use water to clean or store your lenses or reuse solutions.
Stay away from over-the-counter contact lenses during Halloween.
Give your eyes a break and wear your eyeglasses occasionally.
4) Wear Sunglasses Year-Round
Sunlight affects your eyes no matter what the season. Prolonged exposure to sunlight can increase your risk of cataracts, age-related macular degeneration, cancer in your eyes, and skin cancer on your eyelids.
Wearing sunglasses that protect your eyes from the harmful effects of ultraviolet A and ultraviolet B rays can help you avoid these conditions. Check the tags and labels when you shop for sunglasses. Avoid glasses that don't offer 100 percent protection from UV light. For maximum protection, choose wrap-around styles that limit the amount of light that can reach the tops and sides of your eyes.
5) Add More Fruits and Vegetables to Your Diet
A diet high in fatty, fried, and sugary foods isn't good for your overall health or your eyes. Foods that contain these nutrients can help you protect your eyesight:
Beto-Carotene and Vitamin A. Carrots, sweet potatoes, eggs, spinach, butternut squash, and milk all contain healthy amounts of beta-carotene and vitamin A. Eating these foods can keep your eyes moist and reduce your risk of night blindness and eye infections, according to the Academy of Nutrition and Dietetics.
Zeaxanthin and Lutein. Found in kale, honeydew melon, spinach, peas, yellow squash, oranges, and mangoes, these nutrients can protect your eyes from the effects of the sun.
Vitamins C and D. Vitamin-C rich foods, like oranges, peppers, tomatoes, and papaya, can lower your cataract risk, while foods high in vitamin D may reduce your risk of macular degeneration. Foods that contain vitamin D include tuna, salmon, sardines, liver, cheese, egg yolks, and fortified orange juice, milk, and cereal.
Regular eye examinations are an important part of protecting your eye health.
Sources:
PubMed: American Journal of Infection Control: Face Touching: A Frequent Habit That Has Implications for Hand Hygiene, 2/15
American Optometric Association: Computer Vision Syndrome
Academy of Nutrition and Dietetics: 5 Top Foods for Eye Health, 5/11/18